What we do
Brinson Benefits helps mid-market companies transform their employee benefit programs from a necessary evil to a meaningful differentiator.
The Optimizer
The Optimizer is the leverage creator for clients — a proprietary methodology that expands perspective, elevates performance and transforms your employee benefit programs from a necessary evil into a meaningful differentiator.
Real optimization and enduring transformation requires a lasting commitment.  We, therefore, only work with clients committed to investing the time necessary for us to fully understand their situation and desired outcomes.
Before taking on a new client, we invest in a 3 to 6 month process (shown as phases 1 and 2 below) designed to foster relationships with senior leadership and promote a deep understanding of a client's business.  Only if there is a clear, mutual fit, will we begin an engagement.  Following our comprehensive Discovery Workshop, we design and deliver a customized map called The Blueprint.  The Blueprint lays out a comprehensive plan for optimizing your benefit plans, your people and your Human Resource operations.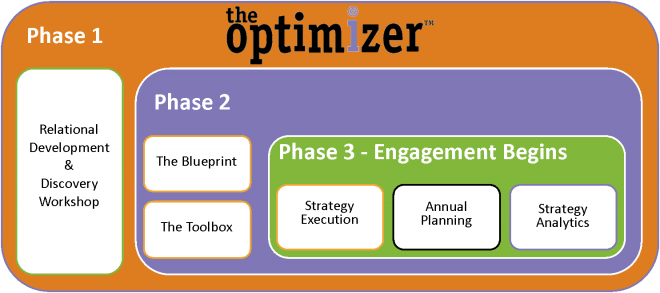 The Optimizer serves as the foundation of Brinson's solutions.  The model addresses a full spectrum of areas relevant to mid-market companies looking to improve performance in the areas of cost management, compliance, advocacy, communication, operational efficiency and health management.
As illustrated in the table below, new competencies and a new mindset are required for an organization to make the move to succeeding: The central challenge for mid-market companies is making the shift from scrambling to succeeding. Few organizations effectively navigate this transition due to what Brinson refers to as "Benefit Blunders" – the "winning strategies" you followed as a smaller organization to manage your employee benefit programs are the very strategies that are now sabotaging your success. Additionally, mid-market organizations are sometimes limited by a number of factors, including: technical experience, infrastructure limitations, poor understanding of key financial drivers, and a reliance on the wrong resources to solve problems.
| | |
| --- | --- |
| Scrambling | Succeeding |
| Reactive | Proactive |
| Don't have time to plan | Planning frees up time |
| Benefits renewal focus | Benefits results focus |
| Higher costs | Lower costs |
| Benefits viewed as necessary evil | Benefits viewed as meaningful differentiator |
| Employer of chance | Employer of choice |
To learn more about The Optimizer Process and related fees, please request a meeting.