Advocacy in Action | Assistance with Special Neurological Testing
A member contacted Purple Card because his son's neurologist ordered a special neurological test and the insurance carrier had been delaying approval for over six months. The member was at his wit's end and contacted Purple Card to see if they could help. The Patient Advocate visited with the member to fully understand the outstanding issues and then contacted the insurance carrier on the member's behalf. As she began looking into the issue to find out why was it taking such a long time for the approval, the Patient Advocate found out there was only one service provider in the entire US who performed the required testing. Further complicating the situation, the service provider's location was in a different state, and the facility was not an in‐network service provider under the insurance plan. The Patient Advocate also found out the required testing was very expensive, and for the insurance plan to consider the cost of the testing as in‐network, a special network exception would need to be made by the insurance carrier. Since there were no local in‐network service providers who could perform the testing, the Patient Advocate worked closely with the service provider and the insurance carrier for over two months to coordinate efforts. Finally, the insurance carrier granted a network exception due to the special circumstances and because the out of state facility was the only place in the US where the testing was available. The member was able to schedule and have the son's testing completed. The member was grateful for all of the time and effort the Patient Advocate extended on his behalf. He appreciated the Patient Advocate providing constant updates and working closely with the service provider, and the insurance carrier to coordinate everyone's efforts. The Purple Card® had come to his rescue!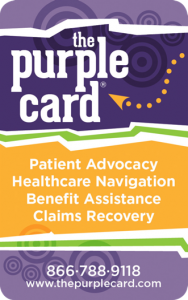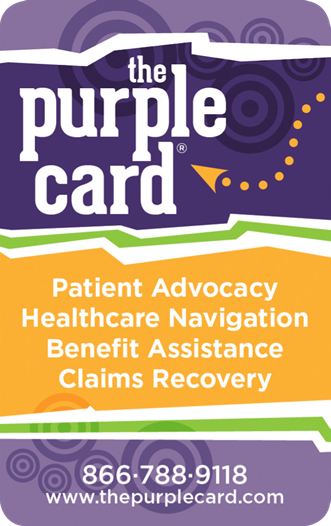 At Brinson Benefits, we care about the patient's best interest. We believe the patient should have an available healthcare navigator and advocate. Our Patient Advocates at The Purple Card® are highly trained to educate members about available benefit programs. They work hard to resolve issues with providers and insurers.
The Purple Card® is an independent health care advocacy and assistance service. Our Patient Advocates provide time and cost-saving services to resolve concerns about benefits programs. We not only assist our members, but we also educate them on ways to maximize health care coverage and other available benefit programs.